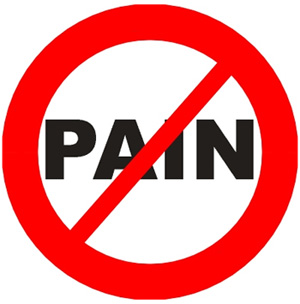 Using the grounded theory method, "massage therapy promotes recovery" was the main theme identified. Within that theme, several subthemes emerged, including pain management , ability to sleep, relaxation, emotional well-being, and healing. Each category is represented with comments from nurses or participants or both. Of the 65 participants in the study, 45 (72.3%) returned surveys. At the end of the survey, an open-ended question encouraged participants to comment freely about their experience of massage therapy. Qualitative responses were received from 33 participants.
Qualitative Theme of Pain Management with Massage for Hospitalized Patients
In the medical charts of participants, 25 nursing comments relevant to the research project were found. All comments were categorized into themes and subthemes. Interrelating themes were also acknowledged.
Pain Management
Of the 33 qualitative responses from participants, 16 were related directly to pain management. Participants mentioned improved pain levels after surgery (n = 9), lessening of breast engorgement after a cesarean section (n = 1), decreased body and headache pain and intensity (n = 4), and decreased pain associated with cancer (n = 2). One cancer patient commented, "I looked forward to the massages I received while in ICU—each helped to reduce the pain." Another patient commented, "After three days in the hospital I was suffering a migraine, nausea, and a lot of body pain. After the massage my headache was lessened and my body pain was greatly reduced." While still hospitalized, one patient noted that "I've never had anything take this pain away completely." Still another noted that "I'm very much supportive of massage therapy as a healing and pain relief procedure." Not only was perception of pain lowered, but also perception of the need for pain medication. Significantly, more than half the participants (52.7%) felt that they needed less pain medication after receiving massage therapy.
The responsibility of nurses for pain management plays a significant role in quality health care. Managing pain is a team effort between physicians, nurses, and other health care providers. Of the 25 comments by nursing staff, 16 referred to decreased pain levels or decreased necessity for pain medications after massage therapy. Nursing comments included "Patient states his neck pain lessened with massage," "Denies pain or needs … had massage therapy this am, in no apparent distress," and "Massage therapy ordered and given with good relief."
Sleep
Comments about ability to sleep were often associated with pain relief. One patient noted that "massage brought dramatic pain relief and ability to sleep and an overall sense of well-being in a stressful environment." Another commented that "I fell asleep almost immediately after [the massage therapist] left." Nursing observations confirmed what patients stated on the survey. Nursing comments included "Patient reports relaxation and pain relief after massage—slept for three hours" and "Patient stated the massage was a big help in decreasing his pain and allowed him to relax enough to get a good nap today."
Relaxation
Relaxation can play a significant role in a patient's healing and recovery process. More than half the participants surveyed mentioned relaxation in their qualitative responses (n = 17). Patients mentioned relaxation, relief from muscle tension, and increased feelings of well-being and calm. Overall nervous tension and the stressful environment of the hospital were also mentioned. Remarks from patients relating to relaxation included "[massage therapy] was very helpful, soothing, comforting, and relaxing," and "this was very helpful to me, in that this is so pleasurable during an unpleasurable experience." A quadriplegic patient who received massage therapy commented that "overall well-being (emotional, physical, spiritual, patience, decreased anxiety, and decreased pain and spasticity) was improved immeasurably by massage therapy and subsequent relaxation."
In 10 comments from the nursing staff, the benefits of relaxation for their patients were mentioned. Nursing notes reflecting the benefits included "Patient seemed calmer tonight," "Patient reports improved muscle relaxation post massage therapy," and "Massage made her relaxed, resting comfortably, no distress."
Emotional Well-being
The interrelatedness of themes becomes apparent in how patient and nursing comments alike reflect the connection between emotional well-being and relaxation, pain relief, and ability to sleep. Participants mentioned emotional well-being 8 times in connection with decreased anxiety, state of mind, attitude improvement, and human contact. One patient commented "[massage therapy] was one of the few times I could look forward to human contact without the potential for pain (as opposed to shots, IV's …)." Another patient described her experience with massage therapy this way: "I was so relieved and grateful. I was no longer crying and felt much better. I was so grateful for the body and mind relief." One of the participants in the research project was in advanced stages of cancer. Although she died, her husband returned the survey, commenting that his "wife appreciated the pain relief, and that 'the massage brought a smile to her face'," also noting his own appreciation of the therapy.
Although nursing comments focused mainly on pain management and relaxation, 2 nursing notes articulated improved emotional well-being. A nurse in the Women's and Infant Center noted that "patient has been teary about infant in special care nursery, had a massage, now coping a little better." Another nurse commented "Patient seemed calmer tonight, not agitated, or hostile."
Healing
References to healing and subthemes of healing including spirituality, recovery, and therapeutic benefits were found in responses from 10 participants. One participant noted that "I feel massage is very important to helping patients heal, in so many ways," and another commented that "[massage therapy] was a very healing experience emotionally and physically." Other participant comments included "Reduction of stress also was very helpful in recovery," "It was very therapeutic," and "It is such a healing process and definitely relaxing." No nursing comments on the theme of healing were found.
DISCUSSION
The experience of hospitalization creates pain and anxiety for many people, regardless of their underlying medical condition. The goal of the present study was to explore how massage therapy would affect a patient's perception of pain in the acute care setting. Previous studies have established the benefits of massage therapy for patients suffering from particular illnesses—for example, cancer and cardiac surgery or procedures. Other studies have focused on patient experiences within particular hospital units including transplantation, neuroscience, and rehabilitation. By selecting research participants in units throughout the hospital, with a wide variety of diagnoses and reasons for hospitalization, our project provides a unique picture of how massage therapy may benefit any patient coping with the pain and stress associated with hospitalization, offering a strong argument that massage is an effective adjunct therapy for pain management.
The primary findings of this preliminary study show a strong correlation between reduction of pain levels after massage therapy and statistically significant differences in pain scores before and after massage. The perception among participants of improved pain levels and less need for pain medication underscore the promise of massage therapy's positive effect on pain management protocols. In addition, a majority of patients felt that massage therapy contributed to increased relaxation, emotional well-being, ability to sleep, ability to move and to participate in other therapies, and faster recovery. For most patients, the effects of the session lasted 1 – 4 hours, with some participants experiencing benefits for more than 24 hours.
Reports of improved levels of relaxation after massage therapy were received from 98% of the research study participants. The fact that patients throughout the various hospital units, with a wide variety of pre-massage pain levels, experienced relaxation through massage therapy indicates the true potential for massage to support healing for hospitalized patients. This finding was reiterated in comments from patients and nurses alike. By accessing a patient's ability to relax, massage therapy addresses a variety of needs. Indeed, the RR may be the most profound mechanism through which massage therapy helps the hospitalized patient.
In addition to relaxation, massage therapy also counters another fundamental aspect of hospitalization, the sense of isolation experienced by many patients. In the present research study, participants reported an improvement in emotional well-being—an aspect of healing that may speak to the need for human touch. More and more hospitals are recognizing the importance of touch for the hospitalized patient. As the face of health care changes in the coming years, it is a hopeful sign that safe, skillful touch is being recognized as a mechanism of healing for patients in the acute care setting.
Participation in our research study was limited to adults whose medical circumstances allowed them to receive massage therapy and to complete the study paperwork. The study does not reflect the perceptions of patients whose energy or pain levels precluded them from participation. Patients whose level of pain did not allow for participation may have found less benefit from massage therapy, revealing the need for fully integrative services in which massage is merely one component of a comprehensive pain management protocol.
Another limitation of the present study is the lack of collection of physiological data, including heart rate, blood pressure, and oxygen levels. The absence of data on the physiological indicators of pain and the RR means that the study relied on participant perceptions without additional external measures to verify participant responses to massage therapy. Pain is an inherently subjective experience that includes physical and emotional elements. Within the hospital environment, health care workers rely on patient perceptions for pain management. The present study thus reflects current standards for assessing the effectiveness of various interventions to address pain in patients.
The current project, designed to gather preliminary data on the research hypothesis, did not use a control group. The selection of additional patients in units throughout the hospital, combined with randomization to groups, would have required substantial additional resources. However, future studies on massage therapy in an acute care setting may benefit from the addition of a control group. Such research may also help to identify specific types of massage therapy that are most effective in the acute care setting.
CONCLUSIONS
Evidence-based research continues to confirm the importance of human touch to balance the high technology of today's health care practices. The further integration of CIM therapies such as massage into the hospital offers the possibility to improve the experience for patients who face physical, psychological, and social challenges in an unfamiliar environment. A large and growing body of research, including the current project, justifies the use of massage therapy for pain management in the acute care setting. Massage therapy can provide pain relief and relaxation, can support a patient's emotional well-being and recovery, and can ultimately aid in the healing process for hospitalized patients.
Rose Adams, MHA, BSW, LMT,1,2 Barb White, MS, LMT,1,3,5 and Cynthia Beckett, PhD, RNC-OB, LCCE Int J Ther Massage Bodywork.
2010;
3
(1)
: 4–11.
Published online Mar 17, 2010.
https://saanichphysio.com/wp-content/uploads/2014/01/no-pain.jpg
304
300
Saanich Physio
https://saanichphysio.com/wp-content/uploads/2018/02/Logo-landscape-trans-300x75.png
Saanich Physio
2014-05-06 03:54:17
2014-05-06 03:54:17
The Effects of Massage Therapy on Pain Management in the Acute Care Setting