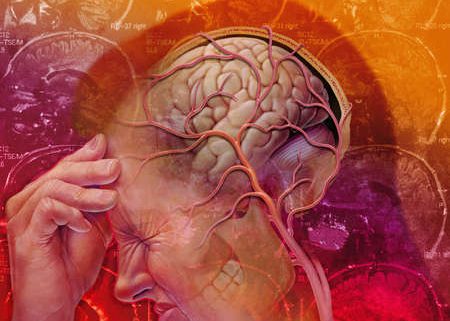 "Tension headaches" are often talked about and we see a lot of patients with these headaches. In our diagnosis of these conditions, about eighty five percent of all headaches arise from the neck, or cervical spine, which refers pain into the head through the nerves which go to both areas. Neck problems cause head pain because some of the nerves which come from the spinal cord have branches which go to the upper neck joints and other branches which spread over the back of the head, with still others going to the front of the head. When one area is sore the brain interprets the pain as coming from all the areas the nerve branches go to.
CAUSES OF TENSION HEADACHES
Patients who have "Tension Headaches" or "stress headaches'', are often very busy and have work related problems, a tough boss, urgent deadlines, problems with managing work flow and they often have trouble sleeping because of work problems and their worries. This causes the patient to be mentally and emotionally stressed and their relationships at work and with their families suffer.
They develop a headache which they cannot shake and they feel helpless, tired, tense, anxious and in pain. We have seen many cases where the headaches have continued for weeks and frequently kept recurring, sometimes over many years.
It is important to understand that a Tension Headache is due to "physical tension" in the tissues, often from a poor working position and the damage it has caused, not the other mental "tensions" listed above. Once full neck movement has been restored with treatment, the tissues have healed and the postural strains have been removed, patients often cope better with the other aspects of their lives. This is where Physiotherapy can help by breaking the vicious "Physical Tension" cycle. It is better to think of these as "structural headaches".
Our neck is made of seven vertebrae stacked one above another. They support the head and they are joined together at the front by discs and at the back by facet joints. When we bend forward, the vertebra above tilts and slides forward, compressing the disc and stretching the facet joints which join the back of the vertebrae. When we bend backward, the disc compression is reduced at the front and the facet joints are compressed at the back. The junction of the first vertebra and the head does not have a disc and the joints there are particularly susceptible to leaning forward which causes the weight of the head to strain the joints, ligaments and muscles as gravity causes a shearing force as the head slides downward.
The neck muscles are often blamed as the cause of pain but this is rarely the whole story. Muscle pain often develops as the muscles contract to prevent further damage, as they protect the primary underlying structures. This pain is secondary to the underlying pathology and when the muscles are massaged, given acupuncture, etc, there is temporary relief but the pain will always comes back as the muscles resume their protective bracing. The most common sources of primary pain are the facet joints and their ligaments in the upper neck and the discs in the lower levels of the neck.
A facet joint strain is much like an ankle sprain, strained by excessive stretching or compressive forces. The joint ligaments, joint lining and even the joint surfaces can be damaged.
In the upper neck, facet joint strains typically occur during excessive bending or twisting movements and may follow trauma such as a car accident causing whiplash but generally, Tension Headaches occur with prolonged forces such as slouching, keying and reading.
There is often a previous history of pain coming and going as the damaged area became inflamed, was treated and settled for a while but as the underlying problem still remained, the pain flared up repeatedly every time it was strained. This type of injury, although often chronic, responds very well to specific Physiotherapy treatment.
OTHER CONDITIONS
There are many other sources of headaches and neck pain including arthritis, crush fractures and various disease processes. Your Physiotherapist will advise you should a more serious condition be suspected.
SYMPTOMS OF TENSION HEADACHES
Symptoms of "Tension Headaches" arising in the neck, are always affected by movement of the head and neck. This is important to understand. Symptoms are sometimes severe and may be sudden in onset but also may be mild and of gradual onset. There are other serious conditions which can produce headaches. If you have severe headache symptoms which are not affected by movement and a recent history of fever or nausea, you must consult a doctor urgently.
Facet joints, discs, muscles and other structures are affected by our neck positions and movements and when damaged, will respond very well to Physiotherapy treatment.
DIAGNOSIS OF TENSION HEADACHES
"Tension Headaches" often appear complex and require a full understanding of the history and a comprehensive physical examination. It is important for your Physiotherapist to establish a specific and accurate diagnosis to direct the choice of treatment. In some cases, the pain may arise from several tissues and these coexisting pathologies are treated individually as each is identified. Where the Physiotherapist requires further information or management may require injections or surgery, the appropriate x-rays, scans and a referral will be arranged.
TENSION HEADACHE RELIEF
Some of these cases will temporarily respond to a general non-specific treatment such as bed rest, ice and anti-inflammatories, however Musculoskeletal Physiotherapists have developed diagnostic skills and treatment techniques, targeted to stopping "Tension Headaches". We will identify the reasons for the development of the pain and advise strategies to promote healing and to prevent further damage.
Specific techniques are chosen to correct the structural and mechanical problems. Among many choices, treatment may include joint mobilisation, stretching, ice, strengthening and education.
When normal function has been achieved, the inflammation and pain has settled and the structures have healed, using your new strategies will reduce the possibility of the headaches ever recurring. We use this approach to reduce or stop chronic pain. While we have the choice to manipulate or "click" joints, those with ongoing pain will seldom benefit from repeated "adjustment". This is because our tissues are elastic and the benefit of the quick stretch of manipulation is lost as the tissues tighten up again. Potentially dangerous "adjustments" of this type have little long term benefit and can lead to an unhealthy dependence on the provider. Your Physiotherapist will choose a safe and appropriate treatment for you.
PROGNOSIS OF TENSION HEADACHES
Physiotherapy for "Tension Headaches" can provide outstanding results but it is a process, not magic. The damage which produces "Tension Headaches" takes time to develop and time to repair and heal. You will understand there are often several interacting factors to deal with and your compliance is necessary.
https://saanichphysio.com/wp-content/uploads/2014/02/Migraine-Headache.jpg
371
450
Saanich Physio
https://saanichphysio.com/wp-content/uploads/2018/02/Logo-landscape-trans-300x75.png
Saanich Physio
2016-12-16 00:10:50
2018-03-11 20:26:56
Tension Headache? Learn more