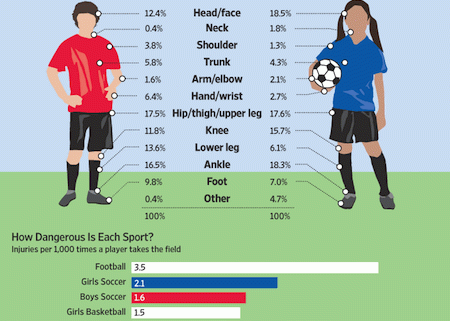 Sports Injuries in Young Children: Tips for Caregivers
Here are some "on-the-field" tips for helping a young child who has been injured:
•Minor injuries are fairly common in young children; severe injuries are not.
•A young child's self-esteem and enjoyment of a sport can be influenced by an adult's reaction when the child is injured.
•Judging the intensity and finding the site of the pain in a preschool child may not be easy. The child's perception of severity, influenced by his/her temperament and developmental level, may not match reality. The child's response to an injury may also reflect his/her prior experiences or the experiences of a friend or family member who has had an injury.
•Don't judge a child's reaction to an injury based on the child's age, sex, or size. Young children may vary greatly in their physical and mental development, temperaments, and reactions to and tolerance of pain and stress.
•Acknowledge the child's feelings (pain, fright, and/or anxiety), provide emotional support, and convey a sense of protection and caring.
•Treat children with respect. Never ridicule or belittle them in front of their peers, as this may be harmful to their developing self-esteem. Reassure the child that he/she will be cared for and the injury will be evaluated.
•Inappropriate overconcern can have negative effects and may lead to a more frightened child or eventually to a more vulnerable child. Parents may have difficulty remaining objective about their child's injury. On the other hand, parental knowledge of their child's temperament and typical reaction to pain can be immensely helpful to others trying to evaluate the severity of the injury.
•Question the child simply and directly. An authoritative approach, gentle but firm, will be reassuring for some youngsters.
•Listen to the injured youngster and get his/her reaction to reentering a sport or activity. Sometimes hidden fears will be expressed that can be addressed by a caregiver who listens. A child's mental health and development are as important as his/her physical health.
•Time, ice, and a caring attitude will help to minimize many simple traumatic injuries.
https://saanichphysio.com/wp-content/uploads/2015/10/Common-injury-areas-.gif
442
450
Saanich Physio
https://saanichphysio.com/wp-content/uploads/2018/02/Logo-landscape-trans-300x75.png
Saanich Physio
2016-01-11 18:58:11
2016-01-11 18:58:11
Sports Injuries in Young Children: Tips for Caregivers