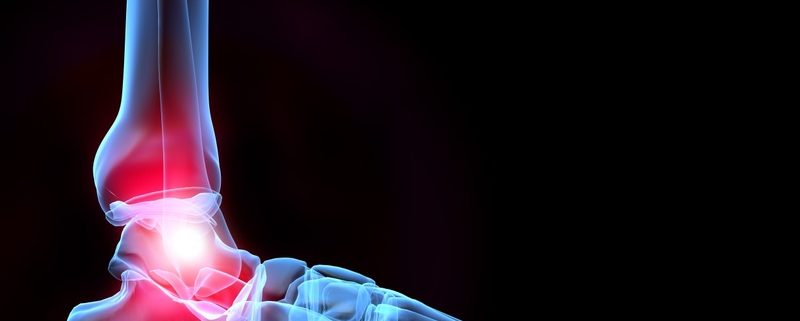 Plantar fasciitis is the most common foot condition treated by healthcare providers. It has been estimated that it affects as much as 10% of the population over the course of a lifetime. With this in mind we need to be able to prevent, assess and treat this condition effectively. While ankle dorsiflexion (flexing your ankle upwards), obesity (BMI>30), and work-related weight bearing were reported to be independent risk factors,reduced ankle dorsifexion appeared to be the most important factor. Amis et al found that 78% of patients with painful heel shad ankle dorsiflexion limitations of at least 5°. Kibler et al noted that 90% of running athletes with plantar fasciitis had either a lackof 5° dorsiflexion beyond neutralon the affected side, or a lack of 10° or more dorsiflexion compared to the non-affected side. Furthermore, having dorsiflexion range of motion (ROM) of 0° or less leads to a 23 times greater risk for developing plantar fasciitis, as compared to a reference group having greater than 10° of dorsiflexion.
So clearly this is a common problem and we need to find solutions to accelerate recovery. Given the research at our disposal related to the promotion of dorsiflexion for reduced risk, by improving it we might be able to alleviate pain.
In a study by Cleland of 60 subjects that compared manual therapy and exercise with elelctrophysical agents, a successful outcome in the former. They used measures including the LEFS, the Foot and Ankle Ability Measure (FAAM), the Numeric Pain Rating Scale (NPRS), and the Beck Anxiety Index (BAI). The results of this study provide evidence that MTEX is a superior management approach over an EPAX approach in the management of individuals with plantar heel pain at both the short-and long-term follow-ups
In a study by De Geovanni which looked at plantar fascia specific stretching it was found that for patients with chronic proximal plantar fasciitis, this study highlighted the value of this technique. It was believed that it is an important component of treatment, superior to the traditional weight-bearing achilles tendon stretch.
In the Drake study of 15 patients a positive effect of a temporaray foot orthotic was found. In treating PF, a temporary foot orthotic used for 2 weeks, followed by a stretching program, provided preliminary evidence that first-step heel pain andoot and ankle function improve in the short term and up to 12 weeks.
Lastly in a case series by Young et al it was found that a program of manual therapy and exercise focused on improving dorsiflexion had rapid positive results. It must be noted that although in these latter two studies we note positive treatment effect, the small sample size and lack of randomization make it difficult to generalize to the general population. However, given the paucity of research supporting physical therapy for plantar fasciitis, these studies to give us hope for improved treatment effects.
Treatments that we do tend to focus on mobilization of the foot and ankle plus stretching and proprioceptive exercise. We tend to perform a low dye tape job on these patient- akin to doing the temporary foot orthotic. Historically we have spent more time on achilles stretching versus specific plantar fascia stretching as per the study by De Geovanni. Of particular importance is Dorsiflexion. Based on these studies we intend to use it as the most important measurement in the treatment of plantar fasciitis. Furthermore, we are not going to improve dorsiflexion by doing ultrasound! If we consider the role of the talocrural joint and the subtalar joint and work on mobilizing all joints that interact with them, using dorsiflexion ROM as a guide we are more likely to see positive results.
Cleland J et al. Manual Physical Therapy and Exercise Versus Electrophysical Agents and Exercise in the Management of Plantar Heel Pain: Multicenter Randomized Clinical Trial.journal of orthopaedic & sports physical therapy 2009.39:8
McPoil T et al. Heel Pain—Plantar Fasciitis: Clinical Practice Guidelines Linked to the International Classification of Function, Disability, and Health from the Orthopaedic Section of the American Physical Therapy Association. J Orthop Sports Phys Ther. 2008:38(4)
Giovanni B et al. Plantar Fascia-Specific Stretching Exercise Improves Outcomes in Patients with Chronic Plantar Fasciitis.2006 THE JOURNAL OF BONE & JOINT SURGERY. 88:8
Boyles RB. Bittenbender C, Drake M. The Short-Term Effects of Treating Plantar Fasciitis With a Temporary Custom Foot Orthosis and Stretching. 2011. journal of orthopaedic & sports physical therapy. 41:4.
Young B, Walker M, Strunce J, Boyles R. A Combined TreatmentApproach Emphasizing Impairment-Based Manual Physical Therapy for Plantar Heel Pain: A CaseSeries. JOSPT. 2004;34:725-733.
https://saanichphysio.com/wp-content/uploads/2014/01/ankle-pain2.jpg
600
800
Saanich Physio
https://saanichphysio.com/wp-content/uploads/2018/02/Logo-landscape-trans-300x75.png
Saanich Physio
2014-10-31 04:04:06
2014-10-31 04:04:06
Plantar Heel Pain/ Plantar Fasciitis