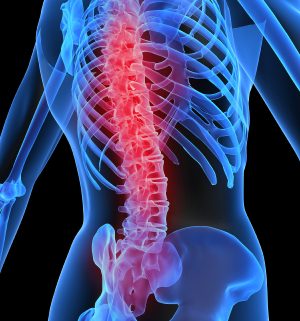 Back Pain Recommendations
American College of Occupational and Environmental Medicine – Medical Specialty Society (1997)
Definitions for the strength of evidence ratings (A, B, C, and I) and the criteria for evidence-based recommendations are presented at the end of the "Major Recommendations" field.
General Summary of Recommendations
The following is a general summary of the recommendations:
The initial assessment of patients with low back problems focuses on detecting indications of potentially serious disease, termed "red flags" (i.e., fever or major trauma).
In the absence of red flags, imaging and other tests are not recommended in the first 4 to 6 weeks of low back symptoms as they almost never result in a meaningful change in clinical management. Nonprescription medication or an appropriately selected nonsteroidal anti-inflammatory drug (NSAID), appropriate adjustment of physical activity if needed, and the use of thermal modalities such as heat and/or cryotherapies can safely relieve discomfort.
In the absence of red flags, primary care and occupational physicians or other health care professionals can effectively manage low back problems conservatively.
At the first visit, the physician should assure the patient that low back pain (LBP) is normal, has an excellent prognosis and, in most cases, is not debilitating on a long-term basis. Patients with elevated fear avoidance beliefs may require additional instructions and interventions to be reassured of this prognosis. Theoretically, this reassurance has the potential to avoid increasing the probability of the patient developing chronic pain syndrome.
To avoid undue back irritation and debilitation from inactivity, some activity or job modification may be helpful in the acute period. However, bed rest is not recommended for essentially all LBP and radiculopathy patients other than those with unstable fractures or cauda equina syndrome with pending neurological catastrophe. Maintaining ordinary activity, as tolerated, leads to the most rapid recovery.
All patients should be encouraged to return to work as soon as possible as evidence suggests this leads to the best outcomes. This process may be facilitated with modified duty particularly if job demands exceed patient capabilities. Full-duty work is a reasonable option for patients with low physical job demands and the ability to control such demands (e.g., alternate their posture) as well as for those with less severe presentations.
Aerobic exercise has the best evidence of efficacy among the exercise regimens, whether for acute, subacute, or chronic LBP patients.
Non-specific stretching is not recommended as it is not helpful for treatment of LBP. However, specific types of stretching exercises appear helpful (e.g., directional and slump stretching). Strengthening exercises, including lumbar stabilization exercises, are recommended, but not until the acute period of LBP has subsided.
There is evidence of efficacy for manipulation for treatment of non-specific LBP, particularly for those patients who test positive for the Clinical Prediction Rule.
Many invasive and noninvasive therapies are intended to cure or manage LBP, but no strong evidence exists that they accomplish this as successfully as therapies that focus on restoring functional ability without focusing on pain. In those cases, the traditional medical model of "curing" the patient does not work well. Furthermore, patients should be aware that returning to normal activities most often aids functional recovery.
Patients should be encouraged to accept responsibility for managing their recovery rather than expecting the provider to provide an easy "cure." This process will promote using activity rather than pain as a guide, and it will make the treatment goal of return to occupational and non-occupational activities more obvious.
If symptoms persist without improvement, further evaluation is recommended.
Within the first 3 months of low back symptoms, only patients with evidence of severe spinal disease or severe debilitating symptoms and physiologic evidence of specific nerve root compromise confirmed by appropriate imaging studies can be expected to potentially benefit from surgery.
Quality evidence exists indicating that patient outcomes are not adversely affected by delaying surgery for weeks or a few months and continued conservative care is encouraged in patients with stable or improving deficits who desire to avoid surgery. However, patients with severe or progressive deficits that are not improving at 4 to 6 weeks may benefit from earlier surgical intervention.
Nonphysical factors (such as psychiatric, psychosocial, workplace, or socioeconomic problems) should be investigated and addressed in cases of delayed recovery or delayed return to work.
Physicians can greatly improve patient response to back symptoms by providing assurance, encouraging activity, and emphasizing that more than 90% of LBP complaints resolve without any specific therapies. While patients may be looking for a clear-cut diagnosis for their LBP, the risk to them of a suggested "cure" for this assumed diagnosis, resulting in failed expectations, may be worse than their symptoms.
Physicians should be aware that "abnormal" findings on x-rays, magnetic resonance images, and other diagnostic tests are so common they are normal by age 40. Bulging discs continue to increase after age 40, and by age 60 will be encountered in 80% of patients. This requires that a careful history and physical examination be conducted by a skilled physician in order to correlate historical, clinical, and imaging findings prior to assigning the finding on imaging to a patient's complaints. It is recommended that physicians unable to make those correlations, and thus properly educate patients about these complex issues, should defer ordering imaging studies to a qualified consultant in musculoskeletal disorders. Without proper education on prevalence, treatment, and prognosis, patients may become fixated on "fixing" their abnormality (which may in fact be a completely normal condition) and thus iatrogenically increase their risk of developing chronic pain.
Significant abnormalities in hip range-of-motion may increase the probability of back disorders.
Summary Tables: Recommendations and Evidence
Table 1 is a summary of the recommendations from the Evidence-based Practice Spine Panel for diagnostic testing for low back disorders. Table 2 is a summary of recommendations for managing these disorders. Table 3 is a summary of recommendations for the prevention of low back disorders. Table 4 is a summary of recommendations for post-operative low back pain. The recommendations are based on critically appraised higher quality research evidence and on expert consensus observing First Principles when higher quality evidence was unavailable or inconsistent. The reader is cautioned to utilize the more detailed indications, specific appropriate diagnoses, temporal sequencing, prior testing or treatment, and contraindications that are elaborated in more detail for each test or treatment in the body of this Guideline in using these recommendations in clinical practice or medical management. These recommendations are not simple "yes/no" criteria, and the evidence supporting them was in nearly all circumstances developed from typical patients, and not unusual situations or exceptions. Note that the phrase "there are no quality trials" is contained throughout this document and refers to a lack of high- or moderate-quality trials for that particular intervention or test. Recommendations for those topics are consensus of the panel.
Recommendations are made under the following categories:
Strongly Recommended, "A" Level
Moderately Recommended, "B" Level
Recommended, "C" Level
Insufficient – Recommended (Consensus-based), "I" Level
Insufficient – No Recommendation (Consensus-based), "I" Level
Insufficient – Not Recommended (Consensus-based), "I" Level
Not Recommended, "C" Level
Moderately Not Recommended, "B" Level
Strongly Not Recommended, "A" Level
Table 1: Summary of Recommendations for Diagnostic and Other Testing for Low Back Disorders
Test
Recommendation(s)
X-ray
Routine x-ray for acute, non-specific LBP – Not Recommended, Evidence (C)
X-ray for acute LBP with red flags for fracture or serious systemic illness, subacute LBP that is not improving, or chronic LBP as an option to rule out other possible conditions – Recommended, Insufficient Evidence (I)
Flexion and extension views for evaluating symptomatic spondylolisthesis in which there is consideration for surgery or other invasive treatment or occasionally in the setting of trauma – Recommended, Insufficient Evidence (I)
Magnetic Resonance Imaging (MRI)
MRI for patients with acute LBP during the first 6 weeks if they have demonstrated progressive neurologic deficit, cauda equina syndrome, significant trauma with no improvement in atypical symptoms, a history of neoplasia (cancer), or atypical presentation (e.g., clinical picture suggests multiple nerve root involvement) – Recommended, Insufficient Evidence (I)
MRI is not recommended for acute radicular pain syndromes in the first 6 weeks unless they are severe and not trending towards improvement and both the patient and the surgeon are willing to consider prompt surgical treatment, assuming the MRI confirms ongoing nerve root compression. Repeat MRI without significant clinical deterioration in symptoms and/or signs is also not recommended. – Not Recommended, Evidence (C)
MRI is recommended for patients with subacute or chronic radicular pain syndromes lasting at least 4 to 6 weeks in whom the symptoms are not trending towards improvement if both the patient and surgeon are considering prompt surgical treatment, assuming the MRI confirms ongoing nerve root compression. In cases where an epidural glucocorticosteroid injection is being considered for temporary relief of acute or subacute radiculopathy, MRI at 3 to 4 weeks (before the epidural steroid injection) may be reasonable. – Moderately Recommended, Evidence (B)
MRI is recommended as an option for the evaluation of select chronic LBP patients in order to rule out concurrent pathology unrelated to injury. This option should not be considered before 3 months and only after other treatment modalities (including NSAIDs, aerobic exercise, other exercise, and considerations for manipulation and acupuncture) have failed. – Recommended, Insufficient Evidence (I)
Standing or weight-bearing MRI for any back or radicular pain syndrome or condition – Not Recommended, Insufficient Evidence (I)
Computerized Tomography (CT)
Routine CT for acute, subacute, or chronic non-specific LBP, or for radicular pain syndromes – Not Recommended, Insufficient Evidence (I)
CT for patients with acute or subacute radicular pain syndrome that has failed to improve within 4 to 6 weeks and there is consideration for an epidural glucocorticoid injection or surgical discectomy – Recommended, Evidence (C)
Myelography
Myelography, including CT myelography, for uncommon specific situations – Recommended, Insufficient Evidence (I)
Bone Scans
Bone scanning for routine use in diagnosing LBP – Not Recommended, Insufficient Evidence (I)
Single Proton Emission Computed Tomography (SPECT)
SPECT for the evaluation of patients with low back pain and related disorders – Not Recommended, Insufficient Evidence (I)
Electromyography (EMG)
Electrodiagnostic studies, which must include needle EMG, are recommended where a CT or MRI is equivocal and there are ongoing pain complaints that raise questions about whether there may be a neurological compromise that may be identifiable (i.e., leg symptoms consistent with radiculopathy, spinal stenosis, peripheral neuropathy, etc.) – Recommended, Evidence (C)
Electrodiagnostic studies for patients with acute, subacute, or chronic back pain who do not have significant leg pain or numbness – Not Recommended, Evidence (C)
Surface Electromyography
Surface EMG to diagnose LBP – Not Recommended, Insufficient Evidence (I)
Ultrasound
Diagnostic ultrasound for diagnosing LBP – Not Recommended, Insufficient Evidence (I)
Thermography
Thermography for diagnosing acute, subacute, or chronic LBP, or radicular pain – Not Recommended, Insufficient Evidence (I)
Fluoroscopy
Fluoroscopy for evaluating acute, subacute, or chronic LBP – Not Recommended, Insufficient Evidence (I)
Videofluoroscopy
Videofluoroscopy for the assessment of acute, subacute, or chronic LBP – Not Recommended, Insufficient Evidence (I)
Lumbar Discography
Discography, whether performed as a solitary test or when paired with imaging (e.g., MRI), for acute, subacute, chronic LBP or radicular pain syndromes – Moderately Not Recommended, Evidence (B)
MRI Discography
MRI discography for evaluating herniated discs – Not Recommended, Evidence (C)
Myeloscopy
Myeloscopy for diagnosing acute, subacute or chronic LBP, spinal stenosis, radicular pain syndromes, or postsurgical back pain problems – Not Recommended, Insufficient Evidence (I)
Functional Capacity Evaluations (FCEs)
FCEs are an option for chronic stable LBP or completed post-operative recovery when a physician thinks the information may be helpful to attempt to objectify worker capability vis-à-vis either a specific job or general job requirements – No Recommendation, Insufficient Evidence (I)
FCEs for evaluation of acute LBP, acute or subacute radicular syndromes, or post-surgical back pain problems within the first 12 weeks of the post-operative period – Not Recommended, Insufficient Evidence (I)
Table 2: Summary of Recommendations by Low Back Disorder
Low Back Disorder
Treatment with Evidence Rating/Recommendation Level
Recommended
No Recommendation
Not Recommended
Acute Low Back Pain
Alteration of sleep posture (I)
Aerobic exercise (B)
Specific stretching exercises (C)
Strengthening exercises (C)
Inclusion of fear avoidance belief training during the course of rehabilitation (I)
Nonsteroidal anti-inflammatory drugs (NSAIDs) (A)
Proton pump inhibitors (A)
Misoprostol (A)
Sucralfate (B)
Histamine-2 (H2) blockers (C)
Patients with known cardiovascular disease or multiple risk factors for cardiovascular disease should have risks and benefits of NSAID therapy for pain discussed. (I)
Acetaminophen or aspirin as first-line therapy appear to be the safest to use for these patients. (A)
Acetaminophen for low back pain (LBP) with or without radicular symptoms, particularly for those with contraindications for NSAIDs (C)
Limited use of opioids for severe acute LBP without radicular pain (C)
Screening by asking about prior substance abuse with tools (e.g., CAGE for alcohol assessment) and using currently available screening tools designed for use in populations on or considering opioid therapy as patients with prior history of drug or alcohol abuse or psychological problems are at increased risk of developing opioid-related use/abuse problems. Psychological evaluation in most cases. (I)
Use of a treatment agreement to document patient understanding and agreement with expectations of opioid use (I)
Routine use of urine drug screening for patients on opioids (I)
Muscle relaxants as a second-line treatment in moderate to severe acute LBP not adequately controlled by NSAIDs (B)
Capsaicin (capsicum) (B)
Massage (I)
Manipulation or mobilization for select acute LBP based on Clinical Prediction Rule (B)
Manipulation or mobilization for acute LBP without Clinical Prediction Rule (C)
Self-applications of low-tech cryotherapies (I)
Self-application of heat therapy, including a heat wrap (C)
Provider-based infrared therapy in conjunction with an active exercise program with frequency not to exceed 4 visits (I)
Work conditioning and work hardening programs (I)
Fear avoidance belief training, particularly if there are any suggestions of fear avoidance belief issues (B)
Yoga (I)
Thiocolchicoside (I)
Harpagoside, Camphora molmol, Melaleuca alternifolia, Angelica sinensis, Aloe vera, Thymus officinalis, Mentha piperita, Arnica Montana, Curcuma longa, Tancaetum parthenium, and Zingiber officinale (I)
Topical NSAIDs or other creams and ointments (I)
Mattresses (I)
Use of optimal sleeping surfaces (e.g., bedding, water beds, and hammocks) (I)
Physical or occupational therapy (I)
Home use of infrared therapy (I)
Ultrasound – in situations where deeper heating is desirable, a limited trial is reasonable for acute LBP but only if performed as an adjunct with exercise (I)
Interferential therapy – it may be an option for limited use for acute LBP with or without radicular pain (I)
Neuroreflexotherapy (I)
Botulinum injections (I)
Bed rest (A)
Specific beds or other commercial sleep products (I)
Aggressive stretching (I)
Abdominal strengthening exercises as a sole or central goal of a strengthening program (I)
Aquatic therapy (I)
Lumbar extension machines (I)
Antidepressants (I)
Oral and intravenous (IV) colchicine (I)
Routine use of opioids (C)
Muscle relaxants for mild to moderate acute LBP (I)
Glucocorticosteroids (B)
Tumor necrosis factor-α inhibitors (I)
Complementary or alternative treatments or dietary supplements, etc. (other than those specifically described in chapter) (I)
Willow bark (salix) (I)
Spiroflor (I)
Vitamins (I)
Shoe insoles and lifts (I)
Lumbar supports (C)
Kinesiotaping and taping (I)
Magnets (I)
Mechanical devices for administering massage (C)
Reflexology (I)
Myofascial release (I)
Traction (C)
Decompression through traction and spinal decompressive devices (I)
Adjustments or manipulations of the neck/cervical spine or other areas outside of the lumbopelvic region (I)
Manipulation under anesthesia (MUA) and medication-assisted spinal manipulation (MASM) (I)
Routine use of cryotherapies in health care provider offices or home use of a high-tech device (I)
Diathermy (C)
Low-level laser therapy (I)
Transcutaneous electrical nerve stimulation (TENS) (I)
Percutaneous electrical nerve stimulation (PENS) (I)
Microcurrent electrical stimulation (I)
H-wave stimulation (I)
High-voltage galvanic (I)
Iontophoresis (I)
Routine use of acupuncture (I)
Epidural glucocorticosteroid injections for acute LBP in the absence of significant radicular symptoms (C)
Clonidine for all other LBP not responsive to rehabilitative therapy, NSAIDs or glucocorticosteroids (I)
Intradiscal steroid injections (I)
Trigger and/or tender point injections (I)
Diagnostic facet joint injections (I)
Therapeutic facet joint injections (I)
Prolotherapy injections (C)
Sacroiliac joint injections for acute LBP including LBP thought to be sacroiliac joint related (I)
Radiofrequency neurotomy, neurotomy, and facet rhizotomy (C)
Intradiscal electrothermal therapy (IDET) (I)
Percutaneous intradiscal radiofrequency thermocoagulation (A)
Discectomy for acute LBP without radiculopathy (B)
Percutaneous discectomy (nucleoplasty), laser discectomy, and disc coblation therapy (I)
Adhesiolysis (I)
Spinal cord stimulators (I)
Chronic pain management/functional restoration programs (I)
Cognitive behavioral therapy (I)
Biofeedback (I)
Back schools or education (I)
Subacute Low Back Pain
Alteration of sleep posture (I)
Aerobic exercise (B)
Specific stretching exercises (C)
Strengthening exercises (C)
Inclusion of fear avoidance belief training during the course of rehabilitation (I)
Trial of aquatic therapy for patients who meet criteria (I)
NSAIDs (B)
Proton pump inhibitors (A)
Misoprostol (A)
Sucralfate (B)
H2 blockers (C)
Patients with known cardiovascular disease or multiple risk factors for cardiovascular disease should have the risks and benefits of NSAID therapy for pain discussed. (I) Acetaminophen or aspirin as the first-line therapy appear to be the safest to use for these patients. (A)
Acetaminophen for LBP with or without radicular symptoms, particularly for those with contraindications for NSAIDs (C)
Capsaicin (capsicum) (B)
Massage for select use as an adjunct to more efficacious treatments consisting primarily of a graded aerobic and strengthening exercise program (C)
Manipulation or mobilization for subacute LBP without Clinical Prediction Rule (C)
Self-applications of low-tech cryotherapies (I)
Self-application of heat therapy, including a heat wrap (C)
Trigger and/or tender point injections may be reasonable as second or tertiary options for subacute LBP that is not resolving (C)
Chronic pain management/functional restoration programs can be used with caution in the late subacute phase if their cost can be justified based on early development of major psychosocial barriers to recovery such as opioid dependence, severe post-operative complications, severe mood disorders, or complicating co-morbid conditions (I)
Work conditioning and work hardening programs (I)
Participatory ergonomics programs, where available, for highly select patients with subacute LBP who remain off work or on a different job and where there is managerial support and interest (C)
Cognitive behavioral therapy as a component of a formal interdisciplinary program when combined with other indicated therapies with parameters described in the Rehabilitation for Delayed Recovery section (C)
Fear avoidance belief training, particularly if there are any suggestions of fear avoidance belief issues (B)
A multidisciplinary rehabilitation program with a participatory ergonomics team for patients with subacute LBP with lost-time injuries (C)
Yoga (I)
Thiocolchicoside (I)
Harpagoside, Camphora molmol, Melaleuca alternifolia, Angelica sinensis, Aloe vera, Thymus officinalis, Mentha piperita, Arnica Montana, Curcuma longa, Tancaetum parthenium, and Zingiber officinale (I)
Topical NSAIDs or other creams and ointments (I)
Mattresses (I)
Use of optimal sleeping surfaces (e.g., bedding, water beds, and hammocks) (I)
Physical or occupational therapy (I)
Home use of infrared therapy (I)
Ultrasound (I)
Neuroreflexotherapy (I)
Botulinum injections (I)
Bed rest (B)
Specific beds or other commercial sleep products (I)
Aggressive stretching (I)
Abdominal strengthening exercises as a sole or central goal of a strengthening program (I)
Aquatic therapy for all other subacute LBP (I)
Lumbar extension machines (I)
Antidepressants (I)
Oral and IV colchicine (I)
Routine use of opioids (C)
Muscle relaxants for chronic use in subacute LBP (I)
Glucocorticosteroids (I)
Tumor necrosis factor-α inhibitors (I)
Complementary or alternative treatments or dietary supplements, etc. (other than those specifically described in chapter) (I)
Willow bark (salix) (I)
Spiroflor (I)
Vitamins (I)
Shoe insoles and lifts other than in circumstances of leg length discrepancy over 2cm (I)
Lumbar supports (C)
Kinesiotaping and taping (I)
Magnets (I)
Mechanical devices for administering massage (C)
Reflexology (I)
Myofascial release (I)
Traction (C)
Decompression through traction and spinal decompressive devices (I)
Adjustments or manipulations of the neck/cervical spine or other areas outside of the lumbopelvic region (I)
Manipulation under anesthesia (MUA) and medication-assisted spinal manipulation (MASM) (I)
Routine use of cryotherapies in health care provider offices or home use of a high-tech device (I)
Diathermy (C)
Provider-based infrared therapy (I)
Low-level laser therapy (I)
Interferential therapy (C)
TENS (I)
PENS (I)
Microcurrent electrical stimulation (I)
H-wave stimulation (I)
High-voltage galvanic (I)
Iontophoresis (I)
Routine use of acupuncture (I)
Epidural glucocorticosteroid injections for subacute LBP in the absence of significant radicular symptoms (C)
Clonidine for all other LBP not responsive to rehabilitative therapy, NSAIDs or glucocorticosteroids (I)
Intradiscal steroid injections (B)
Glucocorticosteroids for use in trigger point injections (C)
Diagnostic facet joint injections (I)
Therapeutic facet joint injections (I)
Prolotherapy injections (C)
Sacroiliac joint injections for subacute nonspecific LBP, including pain attributed to the sacroiliac joints, but without evidence of inflammatory sacroiliitis (rheumatologic disease) (I)
Radiofrequency neurotomy, neurotomy, and facet rhizotomy (C)
IDET (I)
Percutaneous intradiscal radiofrequency thermocoagulation (A)
Discectomy for subacute LBP without radiculopathy (B)
Percutaneous discectomy (nucleoplasty), laser discectomy, and disc coblation therapy (I)
Adhesiolysis (I)
Spinal cord stimulators (I)
Biofeedback (I)
A multidisciplinary rehabilitation program with a primary focus on interventions addressing LBP (I)
Chronic Low Back Pain
Alteration of sleep posture (I)
Aerobic exercise (B)
Aerobic exercise for chronic persistent pain (A)
Specific stretching exercises (C)
Strengthening exercises (C)
Inclusion of fear avoidance belief training during the course of rehabilitation (I)
A trial of aquatic therapy for patients who meet the criteria (I)
Yoga for select, highly motivated patients with LBP lasting more than a year (C)
NSAIDs (B)
Proton pump inhibitors (A)
Misoprostol (A)
Sucralfate (B)
H2 blockers (C)
Patients with known cardiovascular disease or multiple risk factors for cardiovascular disease should have the risks and benefits of NSAID therapy for pain discussed. (I) Acetaminophen or aspirin as the first-line therapy appear to be the safest to use for these patients. (A)
Acetaminophen for LBP with or without radicular symptoms, particularly for those with contraindications for NSAIDs (C)
Norepinephrine reuptake inhibitor antidepressants (e.g., amitriptyline, imipramine, nortriptyline, maprotiline, doxepin) (A)
Topiramate for limited use in select patients with chronic LBP as a fourth- or fifth-line agent (C)
Gabapentin for peri-operative management of pain to reduce need for opioids, particularly in patients with side effects from opioids (A)
Lidocaine patches (I)
A trial of opioid therapy for chronic severe back or leg pain may be recommended and may be required by specific intractable pain acts (I)
Screening by asking about prior substance abuse with simple tools such as the CAGE for alcohol assessment and using currently available screening tools designed for use in populations on or considering opioid therapy is recommended as there is evidence that patients with a prior history of drug or alcohol abuse or psychological problems are at increased risk of developing opioid related use/abuse problems. A psychological evaluation would also be recommended in most cases. (I)
Use of a treatment agreement to document patient understanding and agreement with the expectations of opioid use (I)
Routine use of urine drug screening for patients on opioids (I)
Muscle relaxants as second- or third-line agents for acute exacerbations of chronic pain (I)
Capsaicin (capsicum) for temporary flare-ups of chronic LBP (B)
Shoe lifts among individuals with significant leg length discrepancy >2 cm (I)
Shoe insoles for patients with chronic LBP with prolonged walking requirements (C)
Massage for select use as an adjunct to more efficacious treatments consisting primarily of a graded aerobic and strengthening exercise program (C)
Manipulation or mobilization of the cervical and/or thoracic spine for short-term relief of chronic pain or as a component of an active treatment program focusing on active exercises for acute exacerbations (B)
Self-applications of low-tech cryotherapies (I)
Self-applications of heat therapy, including a heat wrap (C)
TENS for select use as an adjunct for more efficacious treatments (C)
Acupuncture for select use in chronic moderate to severe low back pain as an adjunct to more efficacious treatments (C)
Neuroreflexotherapy for moderate to severe chronic LBP in patients who have failed management with NSAIDs, progressive aerobic exercise program or other exercises, or manipulation (C)
Trigger and/or tender point injections may be reasonable as second or tertiary options for chronic LBP not resolving (C)
Chronic pain management/functional restoration programs for chronic spinal pain, particularly those programs that focus on functional outcomes (I)
Work conditioning, work hardening, and early intervention programs (C)
Participatory ergonomics programs, where available, for highly select patients with chronic LBP who remain off work or on a different job and where there is managerial support and interest (C)
Back schools or education for select patients (B)
Cognitive behavioral therapy as a component of a formal interdisciplinary program when combined with other indicated therapies with parameters described in the Rehabilitation for Delayed Recovery section (C)
Psychological evaluation as part of the evaluation and management of patients with chronic pain in order to assess whether psychological factors will need to be considered and treated as part of the overall treatment plan (I)
Psychological evaluation prior to consideration of back surgery in patients with chronic benign pain (I)
Fear avoidance belief training, particularly if there are any suggestions of fear avoidance belief issues (B)
Biofeedback for select patients with chronic LBP as a component (not a separate procedure) of cognitive behavioral therapy (CBT) or as a procedure in the context of an interdisciplinary or functional rehabilitation program (I)
Multidisciplinary or interdisciplinary program rehabilitation program (IPRP) with a focus on cognitive behavioral, occupational, and activity-based approaches combined with aerobic exercise and other conditioning exercise for patients with chronic LBP who are not working due to LBP (C)
A multidisciplinary rehabilitation program with participatory ergonomics team for chronic LBP patients with lost-time injuries (C)
Duloxetine (I)
Thiocolchicoside (I)
Harpagoside, Camphora molmol, Melaleuca alternifolia, Angelica sinensis, Aloe vera, Thymus officinalis, Mentha piperita, Arnica Montana, Curcuma longa, Tancaetum parthenium, and Zingiber officinale (I)
Topical NSAIDs or other creams and ointments (I)
Mattresses (I)
Use of optimal sleeping surfaces (e.g., bedding, water beds, and hammocks) (I)
Physical or occupational therapy (I)
Home use of infrared therapy (I)
Ultrasound (I)
Epidural clonidine (I)
One diagnostic facet joint injection may be recommended for patients with chronic LBP that is significantly exacerbated by extension and rotation or associated with lumbar rigidity and not alleviated with other conservative treatments (e.g., NSAIDs, aerobic exercise, other exercise, manipulation) in order to determine whether specific interventions targeting the facet joint are recommended. Repeated diagnostic injections in the same location(s) are not recommended. (I)
Therapeutic facet joint injections for flare ups of chronic low back pain (I)
Botulinum injections (I)
Radiofrequency neurotomy, neurotomy, or facet rhizotomy for patients with chronic LBP confirmed with diagnostic blocks, but who do not have radiculopathy and who have failed conservative treatment (I)
Bed rest (B)
Specific beds or other commercial sleep products (I)
Aggressive stretching (I)
Stretching exercises for chronic persistent low back pain. (I) In select cases, stretching exercises may be added for self-treatment if needed.
Abdominal strengthening exercises as a sole or central goal of a strengthening program (I)
Aquatic therapy for all other chronic LBP (I)
Lumbar extension machines (I)
Selective serotonin reuptake inhibitors (e.g., paroxetine, bupropion, trazodone) (A)
Anti-convulsants (except topiramate) for chronic persistent low back pain (nonradicular) (I)
Gabapentin or pregabalin for chronic nonneuropathic pain or LBP (C)
Bisphosphonates (I)
Calcitonin (I)
Oral and IV colchicine (I)
Ketamine infusion (I)
Ketanserin (I)
N-methyl d-aspartate (NMDA) receptor/antagonists, including dextromethorphan (I)
Routine use of opioids (C)
Muscle relaxants for chronic use in chronic LBP (other than acute exacerbations) (I)
Glucocorticosteroids for chronic LBP without radicular pain (I)
Thalidomide (I)
Tumor necrosis factor-α inhibitors (I)
Complementary or alternative treatments or dietary supplements, etc. (other than those specifically described in chapter) (I)
Willow bark (salix) (I)
Lumbar supports (C)
Hyperbaric oxygen (I)
Topical hyperbaric oxygen (I)
Spiroflor (I)
Dimethyl sulfoxide (DMSO) (I)
N-acetylcysteine (NAC) (I)
Eutectic mixture of local anesthetics (EMLA) cream (I)
Wheatgrass cream (I)
Vitamins (I)
Shoe insoles and lifts other than in circumstances of leg length discrepancy over 2 cm (I)
Kinesiotaping and taping (I)
Magnets (I)
Mechanical devices for administering massage (C)
Reflexology (C)
Myofascial release (I)
Traction (C)
Decompression through traction and spinal decompressive devices (I)
Regular or routine manipulation or mobilization (several times a month for years) (I)
Adjustments or manipulations of the neck/cervical spine or other areas outside of the lumbopelvic region (I)
MUA and MASM (I)
Routine use of cryotherapies in health care provider offices or home use of a high-tech device (I)
Application of heat (such as infrared, moist heat, whirlpool) by a health care provider (I)
Diathermy (C)
Provider-based infrared therapy (I)
Low-level laser therapy (I)
Interferential therapy (C)
PENS outside of research settings for chronic non-radicular LBP (I)
Microcurrent electrical stimulation (I)
H-wave stimulation (I)
High-voltage galvanic (I)
Iontophoresis (I)
Epidural glucocorticosteroid injections for chronic LBP in the absence of significant radicular symptoms (C)
Intradiscal steroid injections (B)
Glucocorticosteroids for use in trigger point injections (C)
Therapeutic facet joint injections for chronic LBP (I)
Therapeutic facet joint injections for routine treatment of chronic non-specific axial pain (B)
Repeat use of intra-articular therapeutic facet joint injections for patients who have failed to achieve lasting functional improvements with a prior injection (B)
Intrathecal drug delivery systems (I)
Prolotherapy injections (C)
Sacroiliac joint injections for chronic nonspecific LBP, including pain attributed to the sacroiliac joints, but without evidence of inflammatory sacroiliitis (rheumatologic disease) (I)
Radiofrequency neurotomy, neurotomy, and facet rhizotomy (C)
IDET (I)
Percutaneous intradiscal radiofrequency thermocoagulation for chronic LBP, particularly including discogenic LBP (A)
Discectomy for chronic LBP without radiculopathy (B)
Percutaneous discectomy (nucleoplasty), laser discectomy, and disc coblation therapy (I)
Adhesiolysis (I)
Lumbar fusion for patients with chronic LBP after lumbar discectomy (C)
Lumbar fusion for chronic non-specific LBP (B)
Artificial disc replacement for chronic nonspecific LBP (I)
Sacroiliac joint fusion surgery and other sacroiliac joint surgical procedures (I)
Spinal cord stimulators (I)
A multidisciplinary rehabilitation program with a primary focus on interventions addressing LBP (I)
Radicular Pain Syndromes             (including "sciatica")
NSAIDs (C)
Proton pump inhibitors (A)
Misoprostol (A)
Sucralfate (B)
H2 blockers (C)
Patients with known cardiovascular disease or multiple risk factors for cardiovascular disease should have the risks and benefits of NSAID therapy for pain discussed. (I) Acetaminophen or aspirin as the first-line therapy appear to be the safest to use for these patients. (A)
Acetaminophen for LBP with or without radicular symptoms, particularly for those with contraindications for NSAIDs (C)
Norepinephrine reuptake inhibitor antidepressants (TCAs) (C)
Carbamazepine as a potential adjunct as a fourth- or fifth-line treatment for chronic radicular or neuropathic pain after attempting other treatments (e.g., different NSAIDs, aerobic exercise, other exercise, manipulation) (I)
Gabapentin for severe neurogenic claudication with limited walking distance (C)
Muscle relaxants as second- or third-line agents for acute radicular pain syndromes (I)
Glucocorticosteroids for acute severe radicular pain syndromes (C)
Massage for chronic radicular syndromes in which LBP is a substantial symptom component (I)
TENS for select use in chronic radicular pain syndrome as an adjunct for more efficacious treatments (C)
An epidural glucocorticosteroid injection is an option for acute or subacute radicular pain syndromes (I)
Lumbar discectomy to speed recovery in patients with radiculopathy due to ongoing nerve root compression who continue to have significant pain and functional limitation after 4 to 6 weeks of time and appropriate conservative therapy (B)
For third lumbar discectomy on same disc, spinal fusion at time of discectomy is an option (I)
Gabapentin for chronic radicular pain syndromes. A trial may be considered as a third- or fourth-line treatment (after NSAIDs, exercise, tricyclic antidepressants [TCAs]) and patients should be carefully evaluated for improvement within a few weeks prior to further treatment. (I)
Interferential therapy – it may be an option for limited use for acute LBP with or without radicular pain (I)
Neuroreflexotherapy (I)
Botulinum injections (I)
Bed rest (C)
Lumbar extension machines (I)
Topiramate for neuropathic pain, including peripheral neuropathy (I)
Glucocorticosteroids for mild to moderate radiculopathy (I)
Tumor necrosis factor-α inhibitors (C)
Vitamins (I)
Shoe insoles and lifts other than in circumstances of leg length discrepancy over 2 cm (I)
Kinesiotaping and taping (I)
Magnets (I)
Mechanical devices for administering massage (C)
Reflexology (I)
Myofascial release (I)
Traction (C)
Decompression through traction and spinal decompressive devices (I)
Manipulation for radicular pain syndromes with acute neurological deficits (I)
Adjustments or manipulations of the neck/cervical spine or other areas outside of the lumbopelvic region (I)
Diathermy (C)
Interferential therapy for chronic radicular pain syndromes (C)
TENS for acute radicular pain syndromes (I)
PENS (I)
Microcurrent electrical stimulation (I)
H-wave stimulation (I)
High-voltage galvanic (I)
Iontophoresis (I)
Routine use of acupuncture (I)
Clonidine for all other LBP not responsive to rehabilitative therapy, NSAIDs or glucocorticosteroids (I)
Diagnostic facet joint injections (I)
Therapeutic facet joint injections (I)
Prolotherapy injections (C)
Sacroiliac joint injections (I)
Radiofrequency neurotomy, neurotomy, and facet rhizotomy (C)
Radiofrequency lesioning of the dorsal root ganglia for chronic sciatica (B)
IDET (I)
Percutaneous discectomy (nucleoplasty), laser discectomy, and disc coblation therapy (I)
Adhesiolysis (I)
Lumbar fusion for patients with radiculopathy from disc herniation (C)
Artificial disc replacement (I)
Sacroiliac joint fusion surgery and other sacroiliac joint surgical procedures (I)
Spinal cord stimulators (I)
Spinal Stenosis
Gabapentin for severe neurogenic claudication with limited walking distance (C)
Epidural glucocorticosteroid injections are an option as a second-line treatment for acute flare-ups (I)
Decompression surgery for patients with symptomatic spinal stenosis (neurogenic claudication) that is intractable to conservative management (B)
Botulinum injections (I)
Bed rest (I)
Kinesiotaping and taping (I)
Magnets (I)
Reflexology (I)
Myofascial release (I)
Diathermy (C)
Interferential therapy (C)
High-voltage galvanic (I)
Iontophoresis (I)
Clonidine for all other LBP not responsive to rehabilitative therapy, NSAIDs or glucocorticosteroids (I)
Radiofrequency neurotomy, neurotomy, and facet rhizotomy (C)
IDET (I)
Adhesiolysis (I)
Lumbar fusion unless concomitant instability has been proven (C)
Artificial disc replacement (I)
Spinal Fractures
Bed rest for unstable spinal fractures (I)
Botulinum injections (I)
Vertebroplasty for highly select patients with low back or thoracic pain due to unusual vertebral compression fractures (I)
Kyphoplasty for patients with low back or thoracic pain due to vertebral compression fractures (I)
Bed rest for stable spinal fractures (I)
Kinesiotaping and taping (I)
Magnets (I)
Reflexology (I)
Myofascial release (I)
Diathermy (C)
Interferential therapy (C)
High-voltage galvanic (I)
Iontophoresis (I)
Vertebroplasty as a routine treatment for patients with low back or thoracic pain due to vertebral compression fractures (A)
Sacroiliitis
Sacroiliac joint corticosteroid injections as an option for patients with a specific known cause of sacroiliitis, i.e., proven rheumatologic inflammatory arthritis involving sacroiliac joints (C)
Botulinum injections (I)
Bed rest (I)
Kinesiotaping and taping (I)
Magnets (I)
Reflexology (I)
Myofascial release (I)
Diathermy (C)
Interferential therapy (C)
High-voltage galvanic (I)
Iontophoresis (I)
Clonidine for all other LBP not responsive to rehabilitative therapy, NSAIDs or glucocorticosteroids (I)
Sacroiliac joint fusion surgery and other sacroiliac joint surgical procedures (I)
Spondylolisthesis
Lumbar fusion for isthmic spondylolisthesis (C)
Lumbar fusion for degenerative spondylolisthesis (C)
Botulinum injections (I)
Bed rest (I)
Kinesiotaping and taping (I)
Magnets (I)
Reflexology (I)
Myofascial release (I)
Diathermy (C)
Interferential therapy (C)
High-voltage galvanic (I)
Iontophoresis (I)
Clonidine for all other LBP not responsive to rehabilitative therapy, NSAIDs or glucocorticosteroids (I)
Facet Degenerative Joint Disease
Facet joint injections with hyaluronic acid (I)
Table 3. Summary of Recommendations for Prevention of Low Back Disorders
Recommended
Not Recommended
Strengthening exercises (C)
Smoking cessation programs (I)
Weight loss programs (I)
Stretching exercise as an isolated prescription or program (C)
Abdominal strengthening exercises as a sole or central goal of a strengthening program (I)
Shoe insoles and lifts (C)
Lumbar supports (C)
Back schools or education (C)

https://saanichphysio.com/wp-content/uploads/2014/02/chronic-pain.jpg
400
300
Saanich Physio
https://saanichphysio.com/wp-content/uploads/2018/02/Logo-landscape-trans-300x75.png
Saanich Physio
2014-02-17 01:59:59
2014-02-17 01:59:59
Back Pain Recommendations (what works, what doesn't)