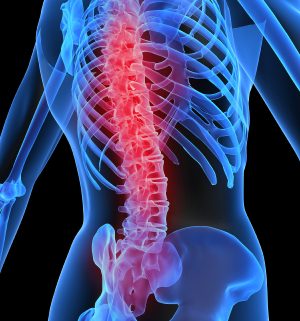 http://www.cbc.ca/news/health/sex-and-back-pain-university-of-waterloo-study-suggests-best-positions-to-spare-your-spine-1.2761157

"Ow, my back!" They're hardly the words one wants to hear from a partner while having sex.
But for many people, intimacy in the bedroom often takes a back seat to low back pain, say researchers, who have scientifically determined the best sexual positions to prevent spinal muscles from seizing up at an inopportune moment.
In what they believe is the first biomechanical study of its kind, researchers at the University of Waterloo have found that certain positions are better than others for keeping different kinds of back pain at bay.
And they've thrown out the long-held belief that spooning — where partners lie sideways curled back to front — is the only pose for back-saving sex.
"Before now, spooning was often recommended by physicians as the one position that fit all. But as we've discovered, that is not the case," said Natalie Sidorkewicz, a PhD candidate and lead author of the paper published Thursday in the journal Spine.
"What that failed to do was recognize that there are all sorts of triggers for back pain," she said from Waterloo, Ont. "So someone may find relief in one position that may cause pain for someone else."
'Many couples will remain celibate because one night of love-making can lead to months of back agony.'– Senior author Stuart McGill
To conduct the study, the researchers recruited 10 heterosexual couples, with an average age of about 30, to have sexual intercourse in a controlled laboratory setting.
Each participant was fitted with remote sensors, which tracked how their spines moved when they engaged in five common sex positions. Infrared and electromagnetic motion capture systems — such as those used to animate figures in video games and films — showed how the men's and women's spines flexed when they assumed each position.
Use hips, knees to control motion
"So we were able to actually determine what angle the spine is at, at each moment in time that they're having sex," said Sidorkewicz, adding that electrodes on participants' skin also captured activity in their core and hip muscles.
The findings were used to create an atlas, or set of guidelines, that recommends different sex positions and thrusting techniques based on what movements trigger a patient's pain.
Overall, the study found both men and women employ a lot of spinal motion during sex, said Sidorkewicz. "In general, to make any position more spine-sparing, we're recommending that the individual who's controlling the movement use more of their hips and knees, rather than their spine," while their partner keeps a more neutral supine position.
"A great example of both these recommendations is the missionary (position)," she said, advising that a woman lying on her back place a cushion or other support under the curvature of her spine.
The researchers also found, for instance, that kneeling behind one's partner during intercourse can prevent back pain caused by flexion in both partners.
"Any family doctor will tell you that couples often ask them how to manage their back pain during and after sex," said senior author Stuart McGill, a professor in the faculty of Applied Health Sciences. "Many couples will remain celibate because one night of love-making can lead to months of back agony.
"Until now, doctors have never had any hard science to base their recommendations upon."
And having a bad back that interferes with one's love life is more common than many people realize. Survey studies suggest that 84 per cent of men and 73 per cent of women report significant decreases in sexual relations due to lower back pain, Sidorkewicz said.
1st-time scientific data
"Right now, if a patient were to come to a chiropractor, physiotherapist or a physician asking for resources on this, anything that is currently out there is not based on scientific data," she said.
"So we are now providing that to help guide those clinicians to make better recommendations for those patients. So the idea is to improve the quality of life of these couples by helping them maintain more of a healthy sexual relationship."
Although this study focused on how a man's spine and muscles move during intercourse and orgasm, the scientists also gathered data on female participants, which they hope to publish later this year or early next.
Future papers include similar studies on people with existing back and/or hip pain to test the effectiveness of their initial recommendations, which would then be further refined for various patient groups.
The guidelines should also help doctors and other health providers feel more comfortable about discussing the delicate topic of sexual positions, Sidorkewicz said.
"We're hoping to help facilitate that dialogue between the patient and practitioner and also between couples who are struggling with this daily."
https://saanichphysio.com/wp-content/uploads/2014/02/chronic-pain.jpg
400
300
Saanich Physio
https://saanichphysio.com/wp-content/uploads/2018/02/Logo-landscape-trans-300x75.png
Saanich Physio
2014-09-13 18:19:21
2014-09-13 18:19:21
Back pain and having sex from CBC News